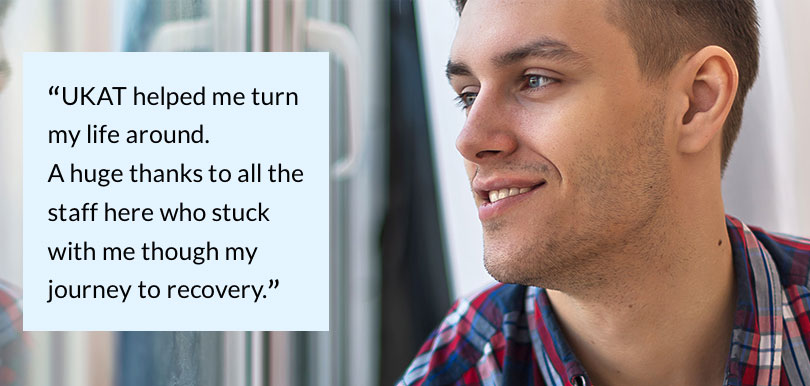 Are you or a loved one suffering with addiction and interested in 12 Step rehab? UKAT are dedicated to helping you achieve a permanent alcohol and drug-free life. All our staff are in recovery from a range of addictions, and many have been through rehab themselves. Furthermore our 160 nationwide beds & rehabs are best-in-class, CQC regulated and we have a range of multi-cost options to suit your budget.
For more information about treatment costs & locations please call us on
0203 131 0727 or talk privately with our addiction experts on LIVE Chat!
12 Step Benefits
Be in a safe and nurturing environment
Medical detox with 24/7 care & support
Overcome the root causes of addiction
Experienced team of doctors & therapists
Personalised rehabilitation programme
Look, feel, sleep better & regain confidence
Learn techniques for relapse prevention
1 year complimentary aftercare support
How It Works
It is a relationship-centred programme of action; it enables the addict to think of others in a compassionate and loving way. A programme of complete abstinence, it encourages spiritual development and growth. Alcoholics and drug addicts undergoing 12 Step treatment are shown how to accept responsibility for their actions of the past and move towards healthier and non-destructive behaviours for the future. The method's compatibility with other treatments is proven to result in high levels of permanent sobriety.
Recovery Programme
Undergoing a 12 Step rehab programme after a medical detox will significantly improve your chances of permanent recovery. Our specialist recovery programme offers:
Group therapy
One-to-One counselling
Yoga & meditation
Cognitive behavioural therapy
Abstinence-based recovery
Compatibility with all religious beliefs
Complements other addiction therapies
Acceptance and internal peace
Relapse prevention techniques
Aftercare support and mentoring
Treatment Cost
Counselling: 10 sessions from £1,000
Medical Detox: 7-10 days from £2,500
Low-cost rehab: 28 days from £5,500
Luxury rehab: 28 days from £10,950
*12-week rehab: from £9,999
We specialise in providing tailored 12 step rehab programmes to the client with dedicated family support. Addiction rarely affects just the individual, and we appreciate that this can be a stressful time for all those concerned. If you have any questions regarding our 12 Step rehabs, treatment needs, costs and locations – we can answer them!