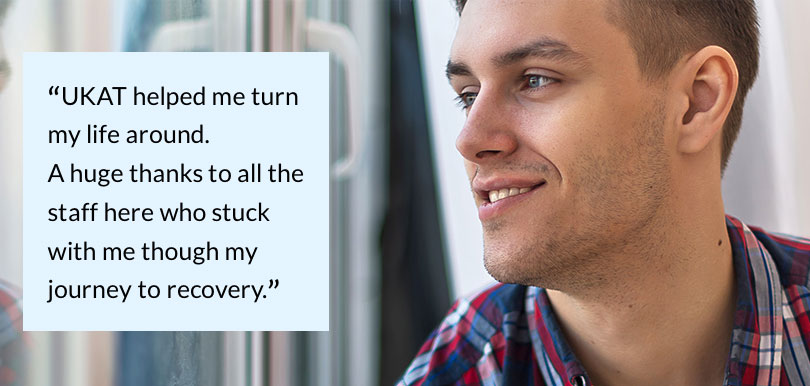 Are you or a loved one suffering with addiction and want to discuss rehab admission? UKAT are dedicated to helping you achieve a permanent alcohol & drug-free life. All our staff are in recovery from a range of addictions and many have been through detox & rehab themselves. Furthermore our 160 nationwide beds & rehabs are best-in-class, CQC regulated and we have a range of multi-cost options to suit your budget, with 1yr free aftercare as standard.
For more information about treatment costs & locations please call us on
0203 131 0727 or talk privately with our addiction experts on LIVE Chat!
The Steps to Admission
Step 1 – Assessment
We will assess your alcohol/drug intake, level of addiction, detox & rehabilitation needs, location and costs involved so we can provide you with the highest level of care
Step 2 – Choosing your rehab
Based on your assessment we will determine which one of our CQC regulated rehabs best suits your needs
Step 3 – Reserving your place
In order to reserve your rehab place and admission date we would take a deposit of £1,500
Step 4 – Transport
If getting to your rehab clinic is an issue we will arrange specialised sober transport
Step 5 – Arrival
On arrival, final payment will be made for the balance of your treatment, you will see the onsite doctor for a full physical & mental health assessment. Afterwards, the team will help you settle in and explain the process and what will happen during the duration of your stay.
All medications, prescribed and non-prescribed
Personal toiletries
Loose, comfortable clothing
Personal items such as photographs and notepads
If you have any questions regarding our rehab admission process – we can answer them!