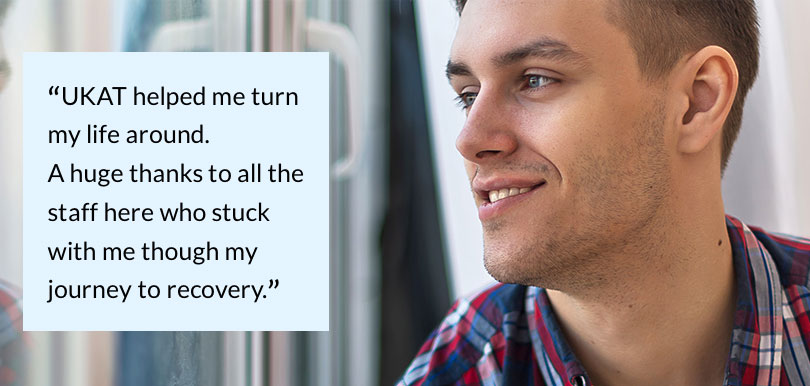 Are you or a loved one interested in rehab aftercare or want to find out more? If so, UKAT are dedicated to helping you achieve a permanent alcohol and drug-free life. All our staff are in recovery from a range of addictions while many have been through rehab themselves. Furthermore our 160 nationwide beds & rehabs are best-in-class, CQC regulated and we have a range of multi-cost options to suit your budget and aftercare is gratis!
For more information about treatment costs & locations please call us on
0203 131 0727 or talk privately with our addiction experts on LIVE Chat!
Our counsellors are experienced in offering aftercare counselling for individuals with addictions; they are all registered with the BACP (British Association for Counselling and Psychotherapy). Your aftercare counsellor will know you from your rehab stay. They will work with you on relapse prevention, help you to implement what you had learnt in rehab into your daily life, help you structure your day and keep you motivated and focused on your recovery.
All aftercare sessions are arranged to take place at the most convenient location for you – i.e. at the treatment centre you attended, or if you travelled further afield we will arrange the aftercare to take place at a centre closer to your home.
The length of aftercare varies per centre but generally each session lasts between 1-2 hours. The format is group therapy with ample opportunity to share your recent experiences along with the option to speak to a counsellor one-to-one in order to further strengthen your journey towards permanent sobriety. You will receive 52 weekly sessions.
Aftercare is not compulsory, but is strongly recommended. The first year of your recovery is when you are most vulnerable to relapse. Having aftercare will vastly improve your chances of remaining free from your active addiction. An aftercare counsellor will help you stabilise your recovery and stay focused on building your new life.
It is gratis and we will automatically arrange it for you.
We specialise in providing tailored alcohol and drug addiction rehab to the client with dedicated family support. Addiction rarely affects just the individual, and we appreciate that this can be a stressful time for all those concerned. If you have any questions regarding our aftercare options, treatment needs, locations and cost – we can answer them!