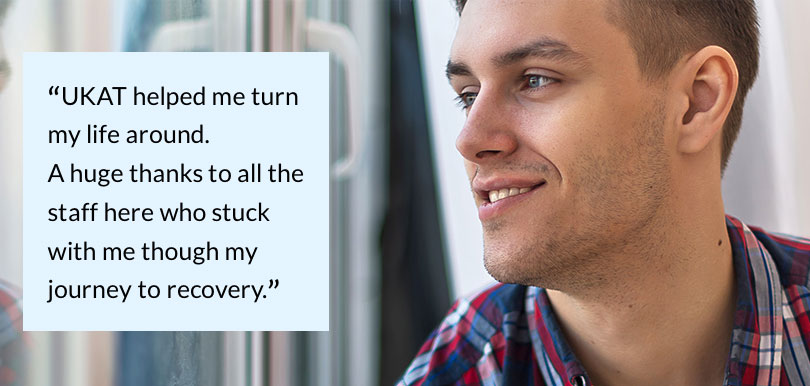 Are you of a loved looking for more info about alcohol/drug rehab services? UKAT are dedicated to helping educate you about the various aspects of detox & rehab! All our staff are in recovery from a range of addictions and many have been through rehab themselves. Furthermore our 160 nationwide beds & rehabs are best-in-class, CQC regulated and we have a range of multi-cost options to suit your budget, with 1yr free aftercare as standard.
For more information about treatment costs & locations please call us on
0203 131 0727 or talk privately with our addiction experts on LIVE Chat!
Treatment Cost
Counselling: 10 sessions from £1,000
Medical Detox: 7-10 days from £2,500
Low-cost rehab: 28 days from £5,500
Luxury rehab: 28 days from £10,950
*12-week rehab: from £9,999
How Long Does Rehab Take?
We generally recommend a minimum 28 day rehab stay to detox and rehabilitate. During this time we are able to teach relapse prevention techniques and necessary life skills in order for you to remain permanently sober.
Where Should I Attend Rehab?
This depends entirely on your personal circumstances and treatment needs, therefore can only be answered once you have been assessed by one of our experienced addiction counsellors.
What Are Luxury Rehabs?
Luxury rehabs are a high-end option for people looking to rehabilitate within opulent living quarters and beautiful surroundings. They provide services and facilities such as as state-of-the-art gyms, pool, as well as private chefs as standard.
Private Health Insurance?
Those who have company or private health insurance need to call us in order to discuss whether your policy covers addiction treatment.
We specialise in providing tailored detox & rehab programmes to the client with dedicated family support. Opiate addiction rarely affects just the individual, and we appreciate that this can be a stressful time for all those concerned. If you have any questions regarding our alcohol and drug rehabs, treatment needs, locations and cost – we can answer them!