Group therapy
"I now realise that any meeting is in some way like a group therapy session. You are understood and accepted straight away. It is a revelation because you've spent such a long time thinking nobody understands you." says Richard, a previous client who has kindly shared his positive group therapy experience. "The first session was frightening but listening to others made me understand I needed to be in rehab and I was in the right place."
Knowing you are not alone and being able to form a strong connection with the others around you is what makes group therapy so powerful in overcoming a force as strong as addiction. Liberty House believes that group therapy has the potential to change lives, and this is why this treatment modality is used extensively in our programme.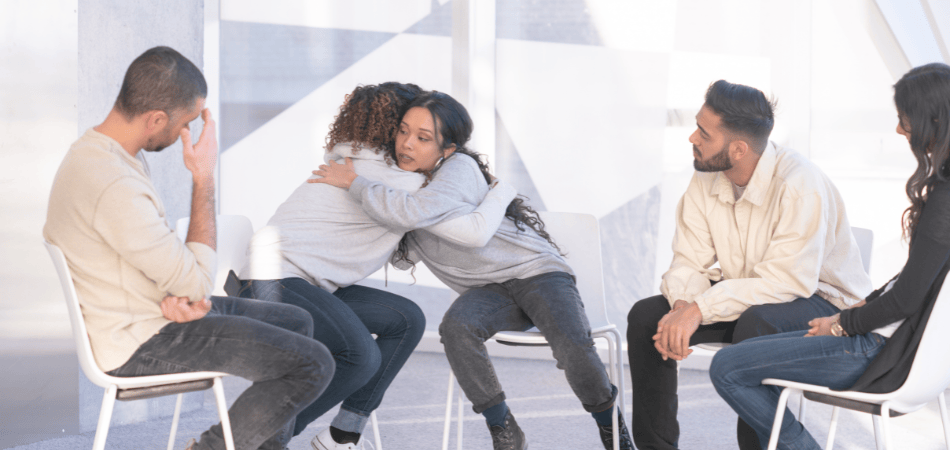 Group therapy for addiction
As the grips of addiction take over, it may push your loved ones away and leave friends on the brink of despair. Many find themselves feeling incredibly isolated and alone during this time, often withdrawing further from society and almost giving up completely. The curtains are shut, the phone goes unanswered and the only time you venture out is to buy your next drink, drug or to engage in compulsive behaviour. It is common to feel all alone in the very small and crippling world of addiction.
These feelings of loneliness and isolation only work to strengthen addiction's grasp over you, enabling it to seep into every corner of your life. While many find group therapy daunting at first, the reality is that this environment is very loving and supportive. You will feel an immediate sense of relief as you soon find others who share the same thoughts and experiences. On that footing, an instant common ground and unspoken bond is formed between peers.
Group therapy is a vital cornerstone in addiction recovery that brings you back to life after a long time spent feeling that no one understands.
What to expect in group therapy
Group therapy sessions are a central component of our addiction rehab programme as they provide a space for participants to share their experiences and learn from those of others. Generally, group therapy sessions are conducted in an informal conversational style, with all members sitting in a circle or semicircle so that they can see each other easily.
During a typical group therapy session, you can expect to engage with a variety of people at different stages of their addiction recovery. You will often find yourself working alongside individuals who have relapsed, those who are just starting on their journey and experienced group therapy participants, giving you multiple perspectives to draw upon in your own journey. Group therapy will be led by a therapist, who will facilitate discussions and provide guidance throughout the process.
Group therapy allows for flexibility for a number of addiction therapies, such as the 12-step programme, dialectical behaviour therapy (DBT), psychodynamic therapy, sound therapy, art therapy, and mindfulness-based therapies.
The benefits of group therapy in addiction recovery
Group therapy is an important part of rehab treatment, providing you with an opportunity to share your struggles surrounding addiction and work through challenges together. This type of therapy helps you to feel supported by others who have undergone similar experiences, allowing you to connect with one another on a deep level.
Some of the benefits of group therapy include:
Effectively breaks down barriers and assists in forming a positive bond with your peers

Affirms a sense of trust and unity within the group

Challenges negative and untrue beliefs and thoughts

Provides inspiration for your own addiction recovery as you witness those further ahead in treatment change and grow

Affirms that communicating with others is a very positive thing in addiction recovery

Improves compassion and empathy and discourages resentment

Allows you to provide help and support to others

Provides an opportunity to resonate with and learn from others' experiences

Improves self-worth as your input is valued by your peers

Helps break the pattern of isolation and bottling up thoughts and feelings

Fosters the belief that being vulnerable in front of others in your emotions is not a bad thing and you will not be judged for it

Promotes accountability and responsibility among participants, as it encourages you to take an active role in your own recovery
Overall, the benefits of group therapy are innumerable, making it an essential tool in addiction recovery. It allows you to harness the power of connection and support in your journey towards recovery.
Will group therapy work for me?
Just as every person is unique, so is every recovery journey. It is true that most of our clients benefit enormously from group therapy, however, some may prefer other techniques or find one-to-one sessions more suited to them.
In order to fully reap the benefits of group therapy, you must be committed and willing to participate in the group. This means that it is important to set clear goals at the beginning of each session and make an effort to share your thoughts and feelings openly with other participants. You must also be mindful of your peers, taking care not to overstep boundaries or infringe on others' privacy.
By approaching group therapy with an open mind and heart, it is much more likely that you will build a strong foundation for lasting addiction recovery.
Frequently asked questions
What if I don't want to share in a group therapy session?
Attending your first group therapy session is understandably daunting. It can be incredibly difficult to open up, especially if you are not used to talking about your emotions or experiences with addiction. Thankfully you will have a knowledgeable therapist leading your group therapy sessions. Listening intently to others and realising you are in a safe space will also give you the courage to share your own feelings. You don't have to speak right away, but we promise before you know it you will be participating and benefitting from group therapy in ways you had not expected.
How many people are in group therapy?
The number of people participating in group therapy at Liberty House can vary depending on who is currently enrolled in our rehab programme. This could be between ten and twenty people.
How long do I need to attend group therapy?
At
Liberty House
, group therapy will be an integral part of your addiction recovery. You will attend sessions throughout the entirety of your stay, whether that's two, four, eight or twelve weeks. Group work is also a part of our aftercare programme as this allows you to stay connected with a support network even after you leave rehab. Many choose to continue with group therapy for months or even years after leaving addiction rehab.