Individual therapy
Addiction is a complex issue; whether you are struggling with drug or alcohol abuse, compulsive gambling or an eating disorder, treatment requires a multifaceted approach. At Liberty House, one-on-one counselling is an integral aspect of our treatment programme. Through individual therapy sessions, you can explore the underlying causes of your addiction and work through any associated emotions in a private and confidential setting.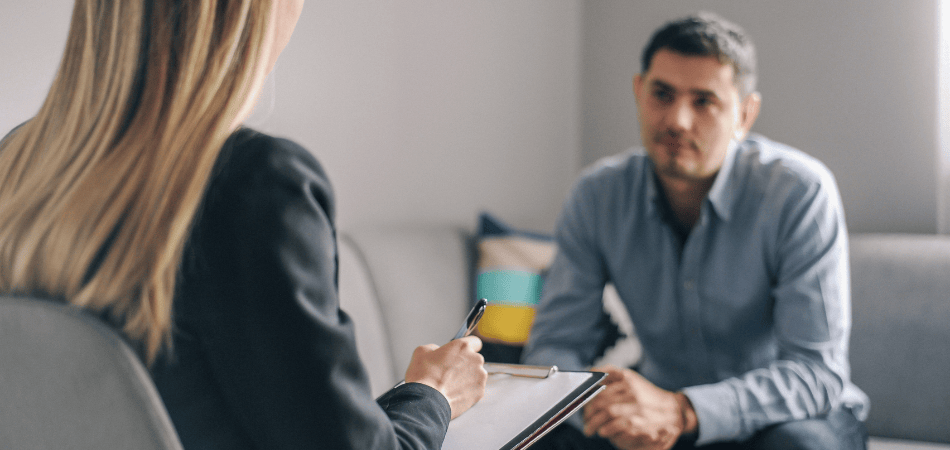 One-on-one counselling for addiction
With addiction often comes feelings of shame, guilt, anxiety and hopelessness. It is so easy to feel trapped under the weight of your compulsions, with the burden of it all pushing you further into isolation and despair. Sometimes it is hard to see the light at the end of the tunnel, but there is hope.
One-on-one counselling can help you to accept and move on from your past, start to forgive yourself and look forward to your future. It is an essential tool in addiction recovery, not only used to treat the psychological aspects of your addiction, but also to identify your triggers, learn new ways to cope with them and prevent relapse.
Addiction recovery is not just about detoxing to break your physical dependency on a particular substance. In order to sustain a healthy, drug-free life, you must work on addressing the harmful thoughts and behaviours that keep you trapped in the cycle of addiction. You must work to unpack any negative emotions and, with the assistance of your individual therapist, start to rebuild your life in a more positive way.
What to expect in individual therapy
Continuity of care and having the ability to build a trusting relationship with your therapist is vital to success throughout addiction recovery. At Liberty House, you will be assigned a personal counsellor on admission – they will be responsible for your individual therapy care plan and will work with you every day as you move through rehab treatment. This allows you to foster a deep connection with your counsellor, feel more comfortable in sharing, and even talk to them about things you never thought you would say aloud.
Each one-on-one counselling session will take place in a private, on-site treatment room. Our therapists take a person-centred approach to the individual therapy that they deliver. This means that each of our clients is treated as a whole and not just for their addiction. We look at the bigger picture, the underlying issues that led you to addiction and any co-occurring disorders that may have contributed to your dependence.
The content of each one-on-one counselling session will be tailored to meet your needs – this is subject to constant review as you and your therapist work together to uncover the reasons behind your addiction.
All Liberty House counsellors are fully qualified and registered with the British Association of Counsellors and Psychotherapists (BACP). They also have the added benefit of being in recovery from addiction themselves. This places them in a unique position, as they can understand your perspective on a deeper level – after all, they have faced the same challenges that you have and learned to navigate a successful recovery.
The benefits of one-on-one counselling in addiction recovery
One-on-one counselling is an essential component of any addiction rehab programme, as it allows individuals to receive targeted support and guidance in addressing their unique issues and challenges. Individual therapy allows your counsellor to assess your psychological and emotional needs on a deeper, more personal level and apply the appropriate treatment methodology for your situation.
Some of the many benefits that you can expect to see through one-on-one counselling include:
Individual therapy is particularly helpful in cases of trauma or emotional distress

It provides a private, non-threatening space where you can open up and discuss sensitive issues

One-to-one work brings down your barriers quickly as a bond is formed with your therapist

Individual therapy allows you to develop greater self-awareness as you work through your issues with your therapist

It maintains a strong motivation for change as you discuss your goals and how to achieve them

You will notice your confidence increase and gain a new found sense of worth

You will gain communication skills that you can take forward into your everyday life
One-on-one counselling provides a vital framework for effective addiction treatment and can greatly contribute to your healing. It is such an important part of recovery and helps individuals to lay a strong foundation for long-term sobriety.
Will individual therapy work for me?
When it comes to addiction recovery, individual therapy can be an extremely effective approach. This type of one-on-one counselling is well-suited to addressing a wide range of issues, including co-occurring mental health disorders like anxiety and depression, trauma, relationship problems and more. Because the therapist can focus exclusively on the needs and concerns of each individual client, this form of treatment typically results in worthwhile outcomes.
In order to get the best out of your individual therapy sessions, it is recommended to:
Stay open minded and be willing to explore your feelings and experiences

Maintain an open dialogue with your therapist – be honest and don't hold back

Actively listen to your therapist

Set manageable goals and keep track of your progress by journaling

Provide feedback to your therapist during each therapy session

Be patient and give yourself the necessary time and space to heal – results won't happen overnight
That said, not everyone will resonate with this form of therapy. Some people may find that group sessions offer better support and camaraderie than one-on-one counselling, and others may find solace in art or sound therapy. Just as every client is unique, so is their addiction recovery.
For this reason, Liberty House offers a broad spectrum of addiction therapies and holistic activities in a programme designed to give our clients the best chances of success. By trialling everything we have to offer, including one-on-one therapy, you can find the techniques that resonate with you and implement them into your routine when you leave our centre and start your recovery journey back home.
Frequently asked questions
How many sessions of one-on-one counselling will I go through during rehab treatment at Liberty House?
You can expect to take part in one-on-one counselling every week while you are at Liberty House. Depending on your length of stay, this could range between two to twelve weeks of individual therapy. It is also recommended that you attend weekly therapy sessions after you leave rehab to ensure that you remain on track.
Is individual therapy the same as one-on-one counselling?
Yes, individual therapy and one-on-one counselling are used interchangeably to describe a therapy session that involves just you and your therapist.
I am nervous about attending individual therapy – what if I don't want to share?
It is completely normal to feel anxious ahead of your first therapy session, especially if you are not accustomed to talking about your feelings. Your counsellor will be there to facilitate conversation and walk you through the process – while they may feel like a stranger at first, it does not take long for our clients to feel truly connected to their counsellor. It is important to try and open up, even if it feels uncomfortable at first. It does get much easier as the sessions go on.