Yoga therapy
Yoga is a practice dating back thousands of years. Derived from the Sanskrit yuj, meaning to unite, attach, or join, yoga ultimately seeks to promote an inner sense of connection to the self – body, mind, and spirit.
In addiction treatment, yoga is an excellent holistic treatment that brings clients back to themselves after an extended period of detachment and separation. As addiction is usually a result of escaping from the complications of our every day, yoga stands to offer clients an alternative solution – to work through their troubles in a positive, healthy manner that prioritises the self, promoting inner peace and relaxation.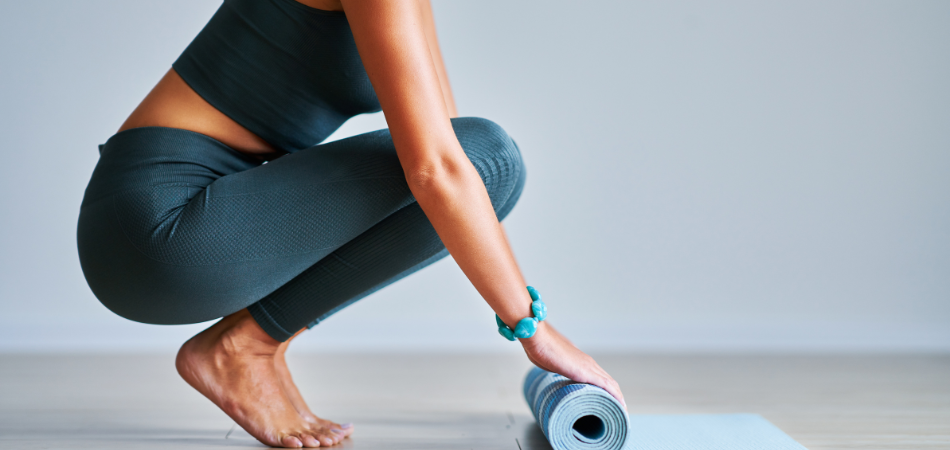 What is yoga therapy?
Yoga therapy is a mindfulness-based treatment used to empower clients in reaching their personal goals, applying some of the tools of traditional yoga practices to promote inner calm whilst enhancing health and wellbeing. Proven to improve mobility as well as alleviate symptoms of depression and anxiety, yoga is a time-tested practice which comes with limitless benefits.
In a typical yoga therapy session, four fundamental components will be used to achieve an all-embracing sense of calm and balance, which are as follows:
Yoga Therapy
Breath-work
Physical Poses

Concentration Techniques
Meditation
Alongside the above features, this approach to therapy applies key principles of yoga (such as positive thinking and mindfulness) to lay the foundations for personal improvement and growth as clients move forward in their treatment sessions.
Sometimes, yoga therapy sessions will look very similar to traditional yoga classes, putting together a sequence of poses and breathing techniques to give the client something to take home and apply for relaxation in their own time. However, in other yoga therapy sessions, the classes have a specific intention, asking individuals to outline any challenges they might be facing, using yoga to find peace within themselves and offer a fresh perspective.
Yoga therapy and addiction treatment
Yoga therapy can be a very effective treatment for those struggling with addiction, and numerous studies point to its effectiveness in treating those with substance use disorders and other dependencies.
The reason yoga therapy is such a valuable tool in addiction therapies is that it offers clients techniques to manage their stress and calm the mind, using their bodies as an instrument to see through their recovery journeys. This physical element of yoga has also been known to help the detox process, easing withdrawal symptoms and reducing cravings for those in the earlier stages of recovery, promoting a sense of inner balance that calms the nervous system and keeps clients relaxed.
At Liberty House, our yoga therapy sessions take place twice a week and run for about ninety minutes, incorporating this form of therapy to complement our other addiction treatments. In our rehab treatment you will be in a group environment, surrounded by fellow clients encountering similar obstacles with active addiction, working together with a shared goal of lasting rehabilitation and improved wellbeing. Prior to a yoga therapy session, we will take into consideration your health history, ensuring that your introduction to yoga is a relaxed and gradual one.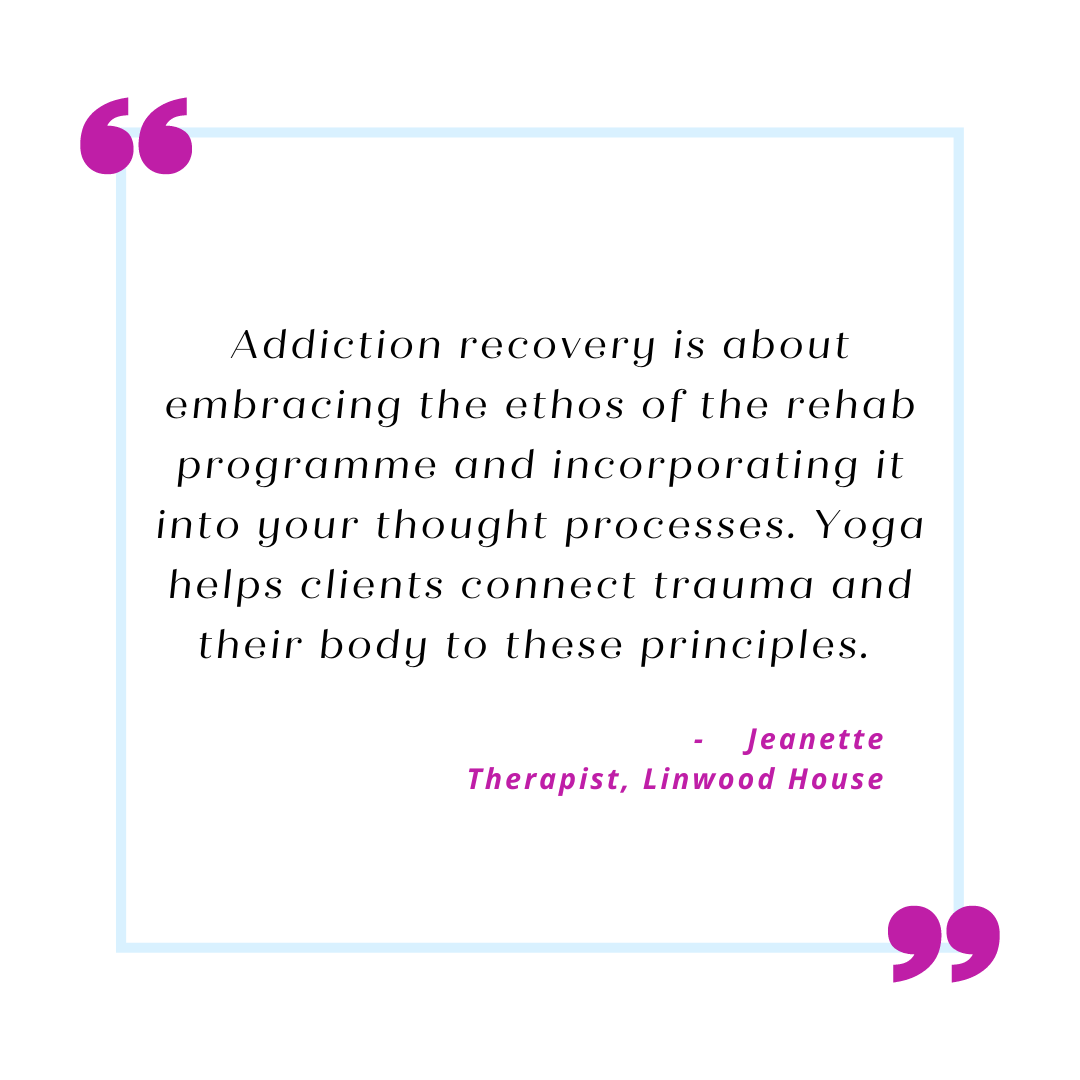 Benefits of yoga therapy in addiction treatment
If you are unsure whether yoga therapy is something that could help you on the road to long-lasting recovery, some of the benefits that can come from this practice include the following:
Working through discomfort
For those with a history of addiction, unhealthy dependencies can stem from an inability to manage the discomfort or pressures of everyday life. In yoga therapy, clients are asked to move into slightly uncomfortable positions, which might initially feel a little tense or uneasy. Whilst in these poses, clients are encouraged to remain present in the moment, working through these feelings and using techniques to bring the mind back to their breath to access a place of calm. Much like a massage, the main incentive of yoga is to relieve pressure in the body, initially applying some pressure, working to promote a lasting sense of restoration and healing after the sessions come to an end.
Finding peace in new places
For many past clients, the only sense of solace or comfort they found was at the bottom of a bottle or compulsive behaviour, using dangerous habits to feel some modicum of connection to themselves or the outside world. Through yoga, clients can discover new techniques to find peace and connection to the self. For example, if you are feeling overwhelmed, instead of returning to these coping strategies, yoga teaches breathing techniques or postures to move us back into a state of calm and self-regulation without needing substances or behaviours as a method to cope.
Unity for the body and mind
At Liberty House, we firmly believe that when you feel relaxed in your body, you are more relaxed in your mind. For this reason, we employ holistic practices like yoga which are aimed to cater to all elements of our client's wellbeing. Yoga therapy, in particular, helps clients learn to feel more comfortable in their own skin, teaching them exercises that calm the nervous system and quieten the mind. This way, all residents will have the clarity necessary to fully engage with their treatment programmes.
Gaining a new perspective on addiction
Through yoga therapy, clients can work with their bodies to look inward, helping to gain an understanding of why their addiction might have manifested in the first place. Once they have a better understanding of how they are feeling – physically, mentally, and spiritually – they can begin working with their treatment programme to start living healthier, more fulfilled lives.
Bring balance back into your life today.
Breaking the addiction cycle can be a difficult journey; however, it is one that countless others are taking steps to combat today. At Liberty House, we are mindful that there is no one-size-fits-all approach to treatment, and what resonates with one client will not necessarily resonate with another. For this reason, our centre is armed with a wide range of holistic therapies like yoga which help clients to focus on the present moment, working through their addictions to achieve a sense of peace and balance within the self. If you want to learn more about any of the therapies that we have available at Liberty House, do not hesitate to contact a member of our friendly admissions team immediately.
Frequently asked questions
What is the difference between yoga and yoga therapy for addiction?
While all yoga practices bring with them a certain therapeutic quality, this does not mean that all yoga sessions qualify to treat addiction. At Liberty House, all our therapists are qualified in the field of addiction treatment. We use this knowledge to design our yoga therapy sessions specific to methods that will support recovery from compulsive behaviours.
What is yoga therapy designed to treat?
As well as being highly beneficial to increase strength, flexibility and balance, yoga therapy can help treat conditions like chronic pain, high blood pressure and arthritis. Yoga can be very beneficial for mental health too, excellent for issues such as anxiety, depression, stress management insomnia and addiction.
Can I use yoga therapy after leaving rehab?
Yes, you can most certainly use yoga after you have left rehab. As a very effective tool to quieten the mind and relax the nervous system, yoga can be highly beneficial in managing cravings and promoting inner strength. With newfound knowledge of yoga practices at their disposal, past clients can use these tools to manage triggers and prevent relapse.