Codeine addiction
Codeine is a commonly prescribed, over-the-counter painkiller. Stronger than both paracetamol and ibuprofen, codeine is intended to relieve mild to moderate levels of pain and is also prescribed as a cough suppressant.
Prescription drug addiction is a very serious problem. Trusting that regulated, over-the-counter drugs could not possibly be a cause for concern, codeine addiction can go unnoticed. Unfortunately, however, this is not the case, and issues like codeine dependence can be highly dangerous if left untreated. In light of this, it is very important that those who are taking codeine keep an eye on their drug intake, looking at some of the more common signs of addiction so they know when to reach out for help.
What is codeine?
Codeine falls into the opioid class of drugs; all substances contained within this group work by binding to opioid receptors in the brain, inducing feelings of pleasure and stifling pain perception. Other drugs from the same family include morphine, fentanyl, and tramadol.
Codeine is highly effective in providing relief from physical discomfort, releasing chemicals to block pain signals and reduce tension in the body. Typically, codeine is used for short-term relief of mild to moderate pain or non-chronic conditions. This is because it can bring about a physical dependency very quickly, sometimes in as little as a few days.
What is codeine addiction?
Opioid addiction is a growing concern, and many individuals seek treatment to overcome their habit every year. In fact, over half (51%) of the adults in treatment between 2020-2021 were there for problems with opiates, and this remains the largest substance group in addiction treatment.
Unfortunately, many of those who suffer from codeine addiction have little choice in the matter, initially using the drug to alleviate pain sustained from health issues, such as back problems or following surgery. However, due to the way that codeine interacts with the brain, these same individuals can see their harmless codeine use turn into something far more dangerous. Codeine works with the brain's opioid receptors, mimicking naturally occurring endorphins such as dopamine and serotonin, blocking pain whilst simultaneously heightening feelings of euphoria. For this reason, some users may find that they no longer experience physical pain but are still using the drug just for these more pleasurable sensations.
To add to this, after prolonged codeine use, individuals can find that they need much more codeine, and in higher doses, to achieve the same effect. This can shift their focus to higher-intensity drugs or black-market medications, further exacerbating the problem to evoke a vicious cycle of addiction, with users eventually taking dangerous doses of codeine just to stop themselves from feeling unwell.
Signs and symptoms of codeine addiction
It can be difficult to make the admission that you might be addicted to codeine, especially as this medication is prescribed over the counter to treat genuine health problems. However, the sooner you begin to admit that you have a problem, the sooner you can get yourself the help you deserve in overcoming your dependency.
The following signs and symptoms indicate that you or a loved one might have a problem with codeine addiction that requires professional help:
Going to different chemists to buy codeine so as not to raise suspicion or be challenged by the pharmacist

Lying about physical ailments to obtain prescription-strength codeine

Purchasing codeine, either on the black market or through street dealers

Mixing codeine with other substances to achieve a more intense 'high'

Wanting to stop your codeine use but finding it impossible to do so

Loss of interest in activities that you once enjoyed

Secretive behaviours, being dishonest with your loved ones or misleading your doctor about your codeine use
I think I'm addicted to codeine. What do I do now?
If you feel that you are starting to display signs of codeine addiction, this means you have already begun the process of recognising your dependence and gearing towards a healthy recovery. However, codeine can compel users to continue taking the drug in spite of the dangers, so it is essential that you decide how to proceed beforehand, choosing a course of treatment which best reflects your needs.
There are a variety of different programmes available for treating codeine addiction, and we would recommend pursuing a course of rehab treatment at a registered facility. At a rehabilitation centre, you will be able to tackle your physical symptoms through a comprehensive codeine detox alongside therapeutic treatments to overcome your psychological dependence in a peaceful setting.
Codeine detox and withdrawal
The first step in rehabilitation is codeine detox, relinquishing your physical dependence so you can regain the mental clarity which is necessary to engage with therapeutic treatments and activities.
Throughout the detox process, codeine withdrawal can be unpleasant, manifesting in a number of symptoms as your body and brain adjust to life without the drug. Typically, a few hours after your last dose, you will begin the first phase of withdrawal, experiencing milder symptoms such as body aches or fatigue. Following this (up to twenty-four hours later), symptoms will become more heightened, reaching their peak after about a week.
Codeine detox will look different for everyone, and the intensity of symptoms depends on a variety of factors, such as how high your dosage is and the length of time you have been abusing codeine. However, some of the more common symptoms associated with codeine withdrawal include:
Sweating

Shaking

Vomiting

Diarrhoea

Chills

Anxiety and panic attacks

Loss of appetite

Insomnia

Muscle cramps and pains

Sneezing and runny nose

Low mood

Cravings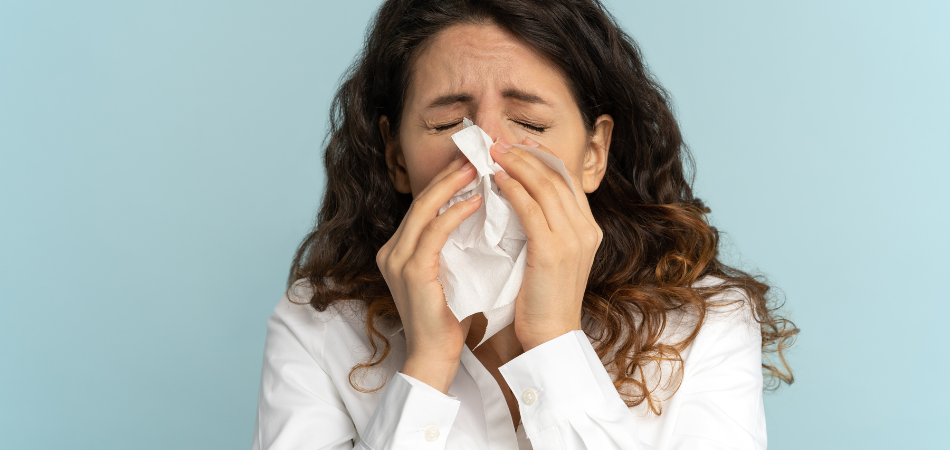 Can I recover from codeine at home?
As you begin to consider which route to take for your recovery journey, you might decide to break your codeine addiction at home, close to your loved ones and in a familiar setting. While it might seem more appealing to stay in your own space, we would urge you to reconsider, as home codeine detox can come with a whole host of dangers that you are unaware of. For example, quitting codeine cold turkey, without access to regular medical support, can be very risky, placing your body into a state of shock which can result in serious medical complications if left untreated.
A medically assisted codeine detox, alongside inpatient codeine rehab, is considered the safest option for recovery, surrounded by well-trained staff who are on hand 24/7 to assure that you are as calm and comfortable as possible. While you may be totally committed to staying clean, codeine cravings are a major hurdle for those new to abstinence, and without regular guidance and care, the desire may lead you back to codeine out of desperation. Therefore, we would recommend choosing to recover in a well-equipped rehab centre, designed to cater to any needs you might have.
Codeine rehab at Liberty House
At Liberty House, we aim to treat our clients holistically, providing an all-encompassing rehab programme which caters to their physical, psychological and spiritual needs. Following your detox, you will receive a scheduled timetable of activities and therapies, some of which include:
Cognitive Behavioural Therapy (CBT) – this form of therapy enables you to challenge some negative thought patterns that may have driven your codeine use, developing healthier coping strategies to ensure that you do not need to turn to these behaviours again.
Group therapy – at our centre, we firmly believe that the opposite of addiction is connection. This is why we provide for group sessions, enabling you to connect with other like-minded individuals who can walk the path to codeine recovery alongside you.
One-on-one therapy – here, you have the chance to talk through more intimate parts of your relationship with codeine and work through negative thoughts with someone who has been in your shoes.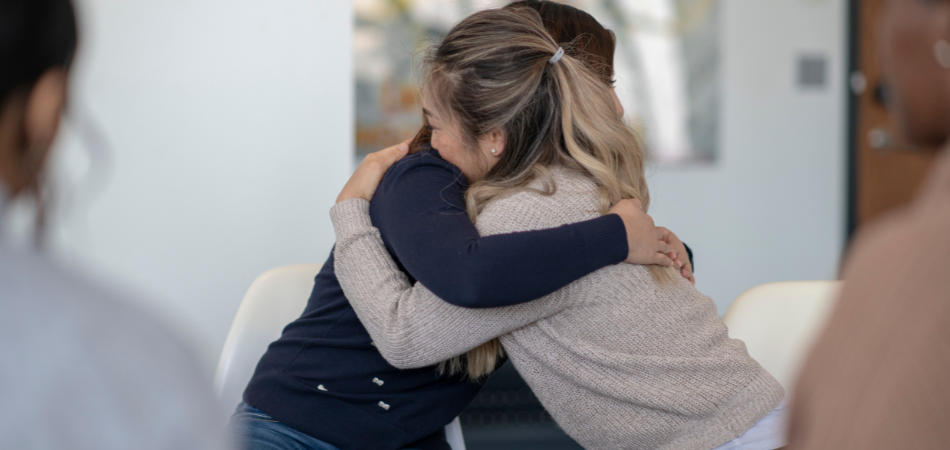 Start your recovery journey today.
We understand that the prospect of quitting codeine can be overwhelming, removing yourself from something which you are so reliant upon and beginning a road toward something new and unknown. However, we have seen many clients enter our doors with the same fears, leaving us with a fresh perspective and positive attitude to recovery. By joining us, we can provide you the continued guidance and support of our knowledgeable team – each committed to helping you take that first step toward a healthier life. If you would like any more information about Liberty House and the support available for codeine dependence, contact a member of our staff right away.
Frequently asked questions
Is too much codeine risky?
Many individuals think that because codeine is available over the counter, it is not harmful like illegal drugs are. This could not be further from the truth. If you are not taking the correct dosage of codeine as approved by your doctor, this can come with a whole host of side effects, such as abnormal breathing, liver damage and internal bleeding. In much the same way as other habit-forming substances, codeine abuse can also lead to an overdose in those not taking their correct amount.
What happens after codeine rehab?
After you have completed your treatment programme, this does not mark the end of your time with us. With one year's free
aftercare
, our team will be on hand to ease your transition back to everyday life, offering much-needed support as you get settled into long-term recovery from codeine.
How do I help a loved one who is addicted to codeine?
If you suspect that your loved one is displaying signs of codeine addiction, it is vital that you approach them with nothing but kindness and compassion during this time. While we understand that witnessing someone you love in the clutches of addiction can be frustrating and worrying, approaching them from a negative place will likely exacerbate the problem.
If you would like any more information about how to talk to a loved one about a drug problem, look for guidance on how to stage a drug intervention.