Alcohol rehab
In the UK, there were an estimated 275,896 adults in contact with drug and alcohol services between 2020 to 2021, with those receiving support for alcohol making up the second-largest substance group in treatment (28%). While it might seem like an impossible task, we would like to assure you that recovery from alcoholism is possible, and with the proper support, this affliction can be overcome.
Fortunately, there are many different support routes available for alcohol treatment, including alcohol clinics, support groups for dependence, and alcohol rehab. These options are available as either free services or private alcohol rehabs. Residential alcohol rehab offers the best chance of alcohol recovery because clients are given a comprehensive treatment plan which addresses all aspects of the problem in a safe space. To find out more about alcohol rehab and its efficiency in treating addiction, consult the page below.
Why is rehab important for alcoholics?
Rehab for alcoholics is important because it aims to break the dangerous cycle of alcohol addiction, putting yourself in the capable hands of trained staff. The purpose of rehab is to put an end to unhealthy drinking habits and remove alcohol from the system safely. This process is referred to as an alcohol detox. The alcohol detox process can be extremely challenging for the addicted individual because of the intensity of withdrawal symptoms. However, support is made available at rehab to help clients through this process both safely and comfortably.
Inpatient vs outpatient alcohol rehab
The prospect of rehab may sound like a daunting experience, but there are different options available to help ease your fears. When looking at the two most popular forms of treatment for alcoholism, you will likely have come across two main forms of alcohol rehab centres – inpatient and outpatient. While both of these options aim to stop a person from drinking and rehabilitate them into a sober lifestyle, they each have different approaches to rehabilitation.
Inpatient rehab
Inpatient alcohol rehab provides a live-in approach to alcohol rehabilitation, with clients expected to reside in the centre for the length of their stay. With this intensive approach to rehab, individuals have the opportunity to separate themselves from any distractions or triggers that could prompt a relapse, staying focused on their goal of long-lasting recovery.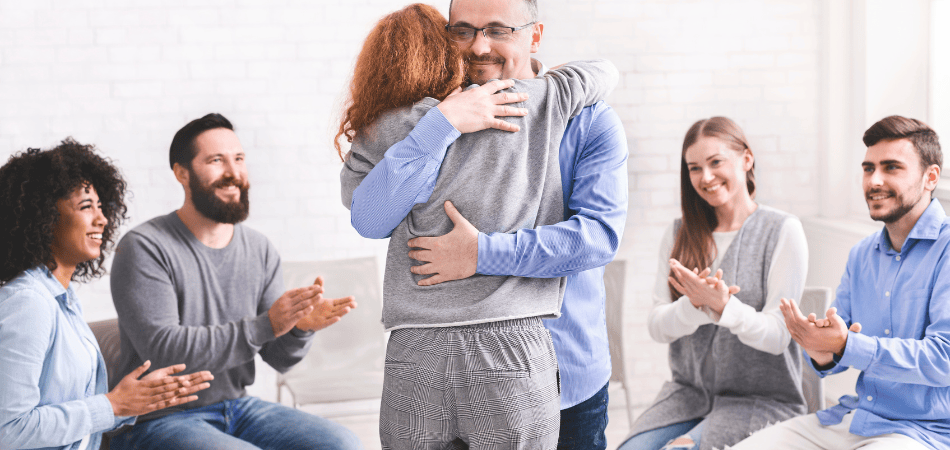 Outpatient rehab
At an outpatient rehab, alcoholics will be offered a less invasive alcohol treatment programme with scheduled groups and activities running during the day. Once these sessions come to an end, clients can return to their homes and go about their daily routine as normal. While outpatient rehab is still beneficial, some of these programmes may not provide the amount of support required to make long-lasting positive changes.
Why inpatient rehab is the best treatment option
One of the best aspects of inpatient alcohol rehab is that clients do not need to feel alone in their respective recovery journeys. This is because they can embark on their alcohol treatment, surrounded by other people in a similar situation. This sense of solidarity forms a large part of the rehab experience as it helps individuals to break the loneliness and isolation that dependence can so often prompt, joining a welcoming community of kindness and support.
In addition, inpatient rehab also provides a safe and comfortable environment to begin treatment. If you feel calm and secure in your environment, you are more likely to fully engage in treatment and succeed in your recovery. What's more, many individuals who drink alcohol compulsively can develop chaotic lifestyles, so creating a clean slate and breaking away from this can further support the transition into sober living.
However, to get the most out of inpatient rehab, a person must be willing to accept support and engage in the variety of treatments included in their programme. This means that rehab will not work for anyone that is not ready to make a change. Forcing someone into rehab can often be counter-productive, as they will be unable to fully engage with the help available to them.
Treatments at alcohol rehab
Once a person is free from alcohol, they can engage with a number of treatments aimed to address any other issues in their life that may have led them to drink alcohol in the first place, issues which may continue to tempt them after treatment ends. Learning about some of the potential triggers that may arise in everyday life is the best way of preventing relapse.
There are always other issues in a person's life that cause them to abuse alcohol, so rehab aims to get to the root of the problem. However, beginning work on these issues in alcohol rehab alone will not automatically cure a person's alcoholism. Alcohol rehabilitation is an ongoing process and can take continued work upon completing alcohol rehab programmes. Although there is around-the-clock support available in an alcohol treatment centre, ultimately, the cure for alcoholism lies within the person.
What happens at Liberty House rehab?
We understand that it can be hard to admit that you have a problem with alcohol, or hard to get somebody to embark on alcohol rehab. At Liberty House, our admissions team ensures that you can feel comfortable and at ease as soon as you enter rehab. They will provide advice and information about your alcohol rehabilitation stay, and outline your alcohol treatment programme.
Alcohol rehab at Liberty House consists of a series of treatments starting with a detox. After this, clients are offered individual therapy and group therapy, a variety of workshops, and holistic treatments. These alcohol treatments are crucial to a person's rate of success in alcohol rehab. This is why we advise our clients to attend all the meetings and workshops included in their programme so that everybody can work together to overcome their relationship with alcohol and underlying trauma. Each therapy included in our rehab focuses on a different area of recovery:
Group therapy – helps people to learn from one another and be honest with themselves.
Individual therapy – gives people a chance to talk about any past trauma that is impacting their life in a confidential setting.
Holistic therapies – include a range of activities such as art and yoga to help focus the mind and relax.
Tailored workshops – to get clients working together, building relationships and learning communication skills.
As well as the above, Liberty House recognises how difficult it is for loved ones to understand the perspective of the alcoholic. That's why we offer family support programmes to involve the family in their loved one's treatment for alcoholism. Family support programmes consist of meetings, information, and advice to teach loved ones about the alcohol recovery process, as well as help to rebuild the relationship with their loved ones.
What happens after rehab?
Unlike all private alcohol rehabs, Liberty House provides an aftercare programme to all clients who successfully complete their alcohol treatment. We understand that it is challenging to go back to "normal life" after completing alcohol rehabilitation. Aftercare programmes at Liberty House allow clients to continue receiving help as they reintegrate back into society. Many people say that completing alcohol rehab is the start of an ongoing recovery journey, so it's important for us to be available to provide ongoing information, advice and support.
Rehab for any dependence is challenging, so don't let that put you off seeking help. The sooner that your loved one accepts that they have a problem and becomes open to seeking support, the sooner they can start to change their life. All of the staff at Liberty House have extensive experience helping people with alcoholism, so if you enquire today, you will be in safe and knowledgeable hands.
Frequently asked questions
What types of therapies are the most effective for alcohol rehab treatment?
Completing a successful detox is a crucial stage of treatment at Liberty House. Without completing this successfully, clients are unable to embark on the remainder of their treatment programme. This is because clients must be physically free from alcohol to work through other
addiction therapies
and workshops.
How long does rehab treatment last?
Rehab treatment can range in duration, but a minimum of fourteen days is required to truly engage in the treatments and therapies. Clients are able to extend their stay at Liberty House for as long as they feel they need to.
How much does alcohol rehab cost?
Alcohol rehab ranges in price depending on the duration of your stay. It can range from between £2000 and £12000. If you have private medical insurance, your policy may cover the cost of private alcohol rehabilitation.